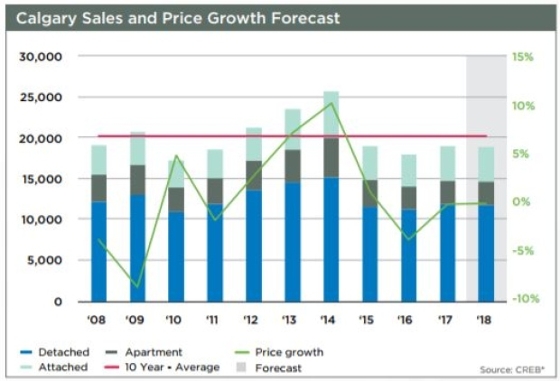 The housing market in Calgary this year will likely look much like it did last year.

The experts forecast says stricter lending criteria introduced this year by Ottawa, coupled with slightly higher interest rates, should put downward pressure on prices.

That will offset any upward momentum that results from Alberta's continuing recovery from the recent economic recession.

The path to recovery is expected to be bumpy, as the market adjusts to a new normal, which predicts minimal changes in sales activity this year in the Calgary area.

More balanced market conditions will be led by the attached and detached sectors of the market, while the apartment sector will continue to struggle with excess inventory in 2018.

The market conditions in the Calgary are expected to remain relatively unchanged in 2018.

While Calgary is officially out of the economic downturn, the housing market continues to face challenges.

Though sales activity increased last year, there was still just too much supply. The condo market in particular has a glut of inventory.

If net migration to Alberta continues to increase, the over supply will start to get absorbed.

The economic conditions are improving, which is helping to support the housing market.